Read well-documented articles about LUV' and solo topics. To read old files, see the "Articles archives" page.
* December 1981: when José went solo...
article posted on December 7th 2011
Front cover of "I'm so sorry" (Photo courtesy of Jos Theuns)
After Luv's glory era, José Hoebee's challenge was to prove that she could score hit records on her own. As the most talented member of the girl group, she recorded the majority of the trio's vocal lines in the studio. So expectations were high when she went solo.
December 1981 was a milestone in her existence when CNR/Carrere Records released her first solo single "I'm so sorry". The song was written by Piet Souer (who conceived the Luv' sound with Hans van Hemert) and produced by Pim Koompan (member of legendary pop-rock band Kayak and producer of sister duo Maywood). Moreover, José had a helping hand from Marga Scheide for her styling and her husband Will Hoebee for musical expertise. Though the singer was surrounded by generous and devoted people, her debut record wasn't a mainstream success. It failed to break into the Dutch Top 40 but peaked at #39 on the Nationale Hitparade (currently Single Top 100).
Hoebee's career really took off with the follow-up record. Her 1982 single "I Will Follow Him" (originally performed by Little Peggy March) hit the number one spot in the Netherlands and Belgium.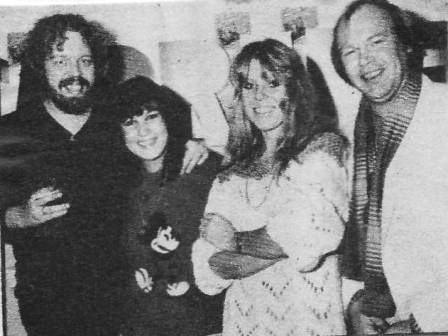 from left to right: Pim Koopman, José Hoebee, Marga Scheide and Piet Souer
(Photo courtesy of Jos Theuns)
José is the only Luv' lady to have a real fanbase. She can count on two kind gentlemen. Peter Boonstra set up her fan club in 2003 and organizes annual meetings between the artist and her public. Jos Theuns updates her fansite on clubs.nl and shares beautiful pictures.
Videos:
To watch José perform "I'm so sorry", click here and here
Bibliography:
* "500 Nr.1 Hits uit de Top 40", book by Johan van Slooten, Gottmer Becht Publishing, 1997
* "Top 40 Hitdossier 1956-2005 (9e editie)", book by Johan van Slooten, Gottmer Bech Publishing, 2006
* "50 jaar nummer-1-hits 1956-2006", book by Johan van Slooten , Gottmer Uitgevers Groep, 2006
Links:
José Hoebee's official fansite: http://jose-hoebee.clubs.nl/
Wikipedia's page: http://en.wikipedia.org/wiki/Jos%C3%A9_Hoebee
Source: DutchCharts.nl, Dutch Rock Pop Institute, Discogs.com