Anton

(

Dutch Show Company

): a man in

Luv'
interview posted on November 10th 2011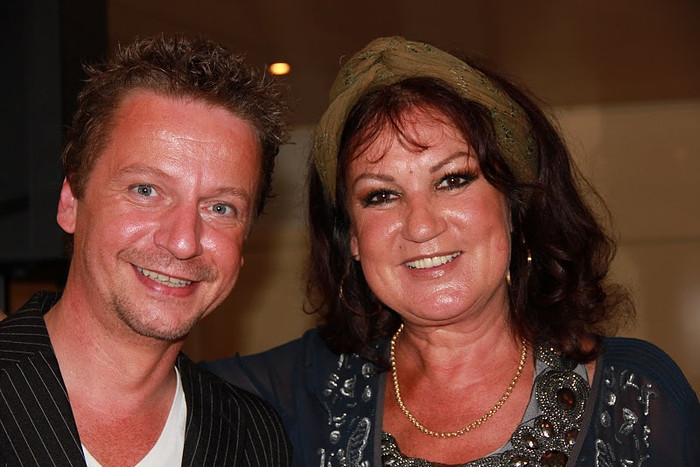 Anton and José Hoebee
When I attended

José

's fan club meetings in 2008 and 2009, I saw a band performing good cover versions of pop classics:

Dutch Show Company

fronted by

Anton

.

I was surprised by his vocal range as well as his talented colleagues (

Melanie, Dorith and Jolanda

).

Anton

is an experienced singer. He kindly accepted to answer my questions about his career,

José

and

Luv'

. Merci!!!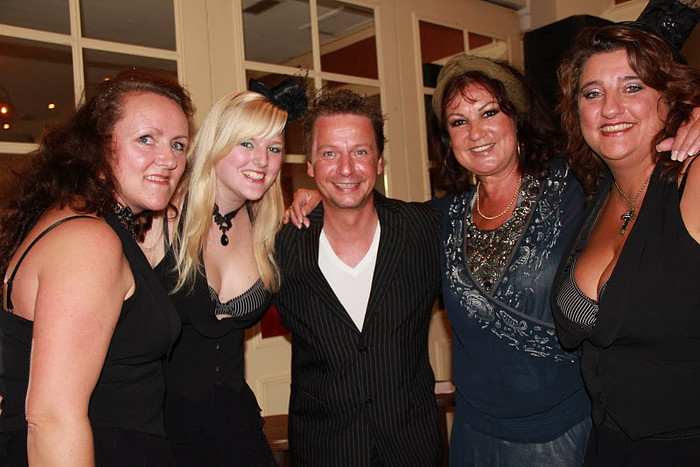 Dutch Show Company & José
When and how did "Dutch Show Company" start?
Anton: Dutch Show Company started in April 1999 so we celebrated our 12.5 anniversary on October 1st 2011.
Who were the founding members?
Anton: There were two singers, Karin and me as well as two lip-synch performers, Hans and Paul. Five months later, the singers Mario and Ellen joined our team.
Were there many changes in the line-up through the years?
Anton: We started in 1999 with four entertainers and through the years somethimes we had thirty performers in our roster. The best year until now was 2007. Among the artists who worked with us: Freek Bartels (who played Joseph in the Broadway musical hit), Anne Delien (ranked third in the SBS 6/VTM talent show K2 zoekt K3), Eefje Thomassen (Op zoek naar Mary Poppins) and Alex Risch (candidate of Idols).
What was your music background before DSC?
Anton: I was a solo artist from 1982 until 2000. I recorded several singles and CD's as "Robin McRay" with producers and songwriters like Jack Jersey, John Ewbank, Jack Verburgt and Wim van de Biggelaar. Some of my songs have been covered by other artists like Hey Bonjour (Alex), Dan Droom Ik Van Liefde (Frans Duyts) and Melanie (Rene Schuurman). I played in musicals like Little Shop Of Horrorsand La Cage Aux Folles. I played Bing in a children TV series called "PPTV". I did a musical training at the Guilford School of Acting and played a leading role in the Evening Shows at Center Parcs.
How would you define the concept and the sound of "DSC"?
Anton: DSC is a spin-off from the Dutch Show Company. We want to create a half an hour act in the style of Luv' and ABBA. Our sound is catchy and tropical.
What about the DSC ladies? What about their music background and skills?
Anton: Melany scored two top 100 hits in 2008/2009: Ik hou van jou (#69) and Ik weet het zeker (#23). She did a media training with Viola Holt. Dorith was a singer in a rock band and had a jazz duo called Delice. Jolanda was a singer in a cover band and one of the first members of the Dutch Show Company in 2001.
Which song do you like to perform the most?
Anton: The Luv' songs and also Making your mind up (Bucks Fizz) as well as some ABBA songs.
You perform many covers. Do you also write and perform original material?
Anton: On our new album we recorded some covers like Use It Up And Wear It Out (Odyssey) and You're the Greatest Lover (Luv') in a Tropical Spanglish version but also original songs like The Wizzard and I Wanna… As a solo artist, I wrote a few songs myself.
What are the upcoming projects of DSC?
Anton: We will release a mini album in February 2012. We will go on tour in Turkey and Gran Canaria and through Holland with our own big touring car in the summer of 2012.
What can we expect from DSC in the long term?
Anton: After the summer of 2012 we're gonna make new plans…
What was your first gig experience?
Anton: One of my first solo performance was at the P.S.V. Stadium in Eindhoven. That was really scary….but it went very well. Later I was asked to sing the official anthem for Helmond Sport and I sang in their stadium. It was fun….
What was the best DSC performance ever?
Anton: Roze Maandag (Gay fair) at the Tilburg Kermis. We played in every great square in front of 100 to 2000 very enthusiastic people. We sang the hits from the Homo Top 100 and we were the "roze draad" (pink link) because of the anniversary of the Pink Monday.
Can you make a living with your music?
Anton: Yes
The music industry has been in crisis for many years. What's your point of view? Did it affect you?
Anton: We had our best year in 2007 (over 250 shows) and our worst year in 2010 (149 shows) but we had gigs every weekend and we survived. There were a lot of entertainment groups which didn't have this privilege, like The Party Company and the Hollands Entertainment Group of Marco Borsato. Now we're back on track.
When did you first meet José Hoebee and the other Luv' ladies?
Anton: I was a huge fan of Luv' and it was until 2005 that I met the other ladies (Marga and Patty). José was my favorite. I met her for the first time in December 1981 at the Discotheque Hollywood in Eindhoven. She had just released her first solo single "I'm so sorry". Later as I worked at Free Record Shop in Eindhoven, she entered the store with her husband to buy batteries for her son's walkman. In 1996, she attended my CD release party at the Dancing Rendez Vous.
Which Luv'/José record did you buy first?
Anton: My Man (Luv') and I'm so sorry (José)
What is your favourite Luv' song? favourite José song?
Anton: My number one, Let there be love, You're the greatest lover (Luv')
Time goes by, I will follow him, Mother of the hearts (José)
What was Luv's best live performance according to you?
Anton: The hit-medley they performed with a live band for the Radio 2 Top 2000 - New Year's Eve show in 2006.
José's best live show ever?
Anton: In 1981 at Disco Hollywood (Eindhoven) because it was one of her first solo performances.
Luv' was a visual act. What was their best TV performance?
Anton: I always liked the performances on Showbizzquiz, Sylvester Parties and Muzikladen in Germany.
What was José's best TV show?
Anton: I liked the performances on the Holiday Show the most with Frank Masmeijer
because she sang very different songs solo or with some other artists.
Hans van Hemert and Piet Souer were pop geniuses. They knew how to write catchy songs. What was so special in the Luv' sound?
Anton: As a child I liked the songs because they were catchy and sung very high. It had a twinkle in it and according to me, they were the best singers ever. Later I discovered how great the arrangements were and how they recorded it in the studio with so many vocal lines. Brilliant….Big up to José and Marga. Patty only did a few lines.
When did you first sing with José?
Anton: It was in 1982 when José asked two people on stage to sing along to You're the greatest lover. Later we performed together at almost every fan meeting.
What do you wish José for her professionnal future? What do you expect (a new José's album, to go on tour, a new Luv' CD or DVD....)?

Anton: I hope she will record a new CD with her favourite folk songs or maybe she will join us with our new version of You're the greatest lover. I think José has a very difficult time at the moment and I don't think there will be any release of an album, DVD or whatever….But….we will plan some performances with José to sing all the Luv' hits from 1978-1980 like we did in Gemert. And of course the album of Peggy March with the new version of I Will Follow Him and their Christmas duet.
Who are some of your favourite female and male singers?
Anton: I like Wynonna very very much (solo and also with her mom as The Judds). I also like Olivia Newton John, Roch Voisine, Carola (from Sweden) and in the early years Barbra Streisand, Patricia Paay and Mariah Carey and of course Doris D &The Pins because you can hear José's voice on tracks like I Wanna Be Loved By You and Bad Luck Honey. But I appreciate many more artists. I have over 4000 CD's at home. Maywood, Dolly Dots, Robbie Williams, Anita Meyer, George Michael, Bucks Fizz, Karin Bloemen, Nicole (Germany), Pussycat, Nick & Simon, Dean Martin, Matt Dusk……
You know I'm French. Did you ever perform French chansons (except "Mon Amour" by BZN)?
Anton: Well….yes….two other songs: Tu Es Foutu (In-Grid) and Après Toi (Vicky Leandros)…hahahaha….
Big Thanks to Anton for making this interview possible!!! I wish you and DSC all the best!!!
LINKS: