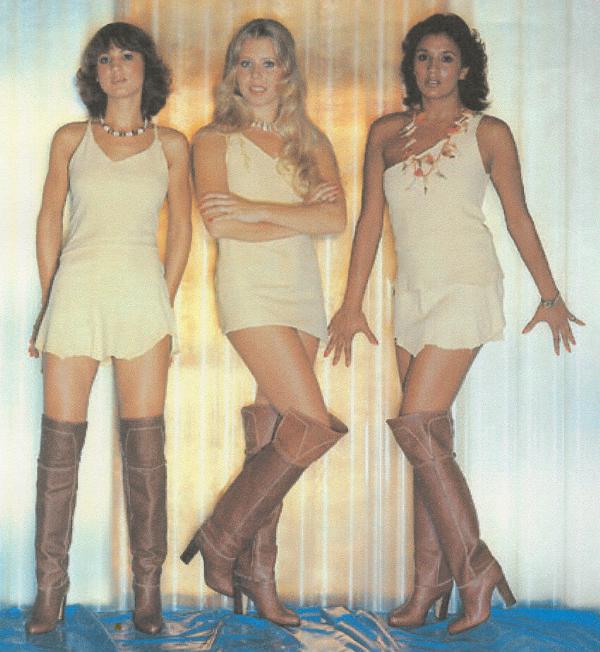 I) 1976: Luv's creation
In 1976, two well established Dutch music producers, Hans van Hemert and Piet Souer and a manager Han Meijer, twenty years before the Spice Girls phenomenon, decided to form a girl group, inspired by the German disco trio Silver Convention. They had already recorded the music of a self penned composition (My Man) and were looking for singers. They recruited three women :
- Josť van de Wijdeven-Hoebee, born on March 29th. 1954 in Best (a village in the south of the Netherlands). She started her career as a professional singer in the early 1970's as a member of a folk & country band, Young Tradition, formed with her two sisters. This formation took part in casting shows, changed its name into Elongi and recorded a single produced by Piet Souer who suggested Josť to join Luv'.
- Marga Scheide, who was model born on February 15th. 1954 in Amsterdam and who was auditioned to be part of an all-girl group.
- Patty Brard, from Sorong in New Guinea, born on March 25th. 1955, who first applied for a job as a secretary by Hans van Hemert who offered her a career in the show business.
That's how Luv' was created and ready to conquer the pop charts.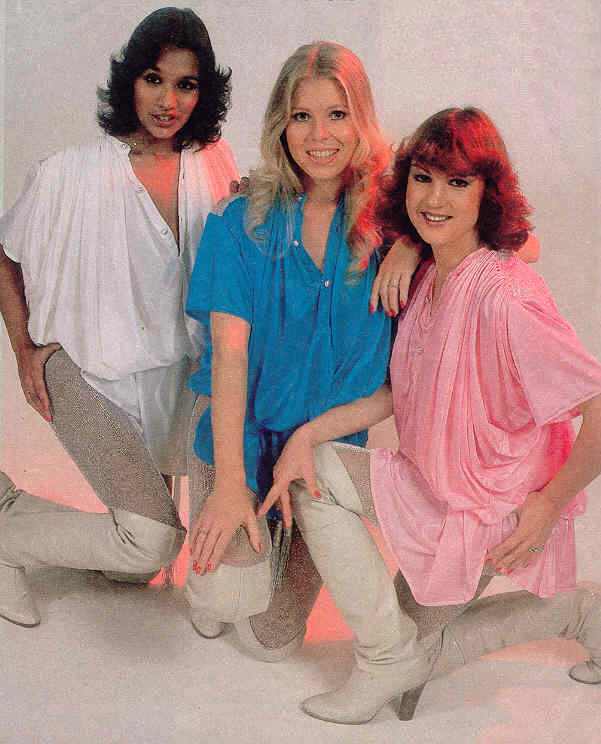 II) 1977 - 1978: Luv's breakthrough
In June 1977, Luv's first single, My Man, was released by Philips/Phonogram.
The lyrics of this track (which dealed with the death of a railroad man) shocked the Netherlands because shortly before its release, a taking of hostages happened in a train in Drente. Though this record didn't get lots of airplay, it peaked at #12 on the Dutch Top 40 charts and it also became a Top 10 hit in Flanders (in Belgium).
In December 1977, the second single Dream, Dream came out. Unfortunately, it flopped. The arrangements of this song were inspired by ABBA's compositions which dominated the pop music production in the Western countries. This unsuccessful track remains one of Luv's best songs according to the group's members. Because of the single's failure, the music specialists forecast the end of Luv'.
Then, Van Hemert was asked by VPRO (a Dutch TV channel) to write a theme for a popular TV series: Het is weer zo laat (a.k.a Waldolala) With the help from Souer, he composed U.O.Me (Welcome To Waldolala) which was recorded by the girls. Moreover, Luv' appeareance performing the song in this TV show was a wonderful publicity stunt. U.O.Me became an instant hit in the Netherlands and Belgium (a Top 3 single in both countries) and meant their first real mainstream success.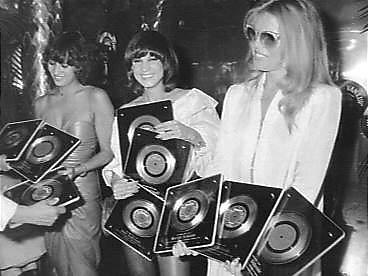 III) 1978-1981: Luv's heyday
The You're the Greatest Lover single was their international breakthrough in 1978. It was a #1 hit in a large part of Continental Europe and sold one million copies. The follow-up singles (Trojan Horse (another million seller), Casanova, Ooh Yes I Do...) were successful in Benelux, Germany, Austria, Switzerland, Denmark, South Africa and to a lesser extent in Spain and France. Their albums were big selling records (especially With Luv' and Lots Of Luv'). Their discs were also popular behind the Iron Curtain, especially in East Germany, Poland and Hungary. Records distribution was limited in the Eastern Bloc so it is hard to evaluate the records sales. However, the songs were frequently aired on communist radio stations. Luv' was Holland's best export act and received in 1979 the Export award for their entire works from Conamus, a foundation dedicated to the promotion and support of Dutch music abroad. They received this prize thanks to the sale of 2,5 million records between 1977 and 1979.
In Germany, their "biggest music market", the trio was a household name. They were often invited in popular TV shows such as Starparade, Disco and Musikladen (where celebrities such as ABBA, Amanda Lear, Boney M., Wham, Village People, The Jacksons, Sister Sledge, Chic or Blondie performed). You're the Greatest Lover (which reached the gold status as it sold 600.000 copies in Goethe's country) was part of the soundtrack of an episode of the Derrick TV series. The song was also used over the credits of a 1979 Teutonic sex comedy film called Sunnyboy und Sugarbaby, which received a lot of late-night airplay in the early days of HBO under its English-language title, She's 19 and Ready. Two decades later, a dance music oriented cover version of this track by Loona renamed Latino Lover was a hit single in German speaking countries (#6 and gold single (250 000 units sold) in Germany, #9 in Austria and #6 in Switerzland in 2000). Another proof of the group's German glory: Luv's cameo role in the movie "Cola, Candy,Chocolate" (aka Drei Kesse Bienen auf den Philippinen) in which the triumvirate of Nederpop performed Trojan Horse.
Last but not least: in a list about the "most popular pop bands ever", the divas ranked #65 (click here). In another list about "the greatest acts of the 1970's", they ranked #52 (click here). These lists were conceived for "Die ultimative Charts Show" (a TV programme broadcast on the RTL Channel) with charts datas compiled by Musikmarkt/Mediacontrol.
Some tracks were recorded in Spanish. Eres Mi Mejor Amante (a.k.a You're the Greatest Lover) was a minor hit in Spain and Si, Que Si (a.k.a Ooh Yes I Do) was a #1 single in Mexico where it reached the gold status.
In 1979, the three pop princesses, their producers and their new manager (Han Meijer was replaced by Pim Ter Linde who runned Interlinde Management) changed their strategy for better opportunities. That's why, they founded a limited company, Interluv'/Luv' BV , to control every aspect of their career. They also chose a new record company. After a deal with Philips /Phonogram, they signed a 750.000 Dutch Guilder contract with CNR/Carrere Records (click here to read an article from De Telegraaf about what this newspaper considered as the show business transfer of the year).
Good-Bye Patty, Welcome Ria
After the One More Little Kissie single was released during the summer of 1980, Patty Brard suddenly left the group. She was immediately replaced by a model and limbo dancer from the Ricardo and The Flames revue, Ria Thielsch (born on August 25th. 1951 in Manokwari, New Guinea). Ria was officially introduced to the public when the My Number One single and the Forever Yours album were released in the fall of 1980. These records sold well in Holland and Belgium. Luv' was supposed to take part in the Yamaha Music Festival (officially known as the World Popular Song Festival and considered as the "Asian Eurovision") in November 1980 with the song Be My Lover Tonight. Instead of it, Luv' cancelled their participation to this competition and prefered to perform on the Musikladen TV show in Germany.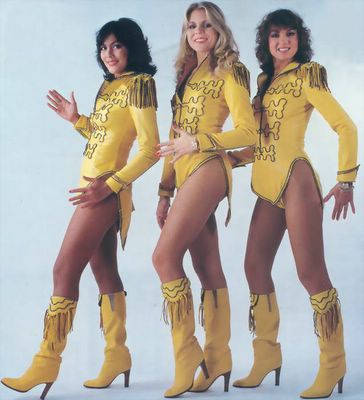 IV) 1981: Break-up
Some tensions within the group appeared. Marga suffered from burn-out and during the recording of Popcorn (a TV music programme), she fainted away.
In January 1981, the group decided to stop their live performances. In March, the girls and their team annonced their separation at the time they had planned to promote their recordings in new territories (Japan, Soviet Union, Australia....). To the public's great surprise, the group made a farewell performance in August 1981 on the Nederland Muziekland show on the Veronica TV channel by singing Tingalingaling (which was released as a single). This final broadcast was filmed in Spakenburg. Luv' also appeared at the Efteling theme park during Hitkrant's Zomerspelen (a summer multi-sport event with Dutch celebrities which was organized by Hitkrant, a teen magazine). They were expected to sing at a UNICEF gala in Greece but their participation in this show was called off. Then a compilation album (Good-Bye Luv') came out.
It was the end of the ladies international success story.
Luv' sold seven million records (singles and albums).
Fortunately, this break-up didn't mean the end of the girls career....